Overview
Heel spurs are a common foot problem resulting from excess bone growth on the heel bone. The bone growth is usually located on the underside of the heel bone, extending forward to the toes. One explanation for this excess production of bone is a painful tearing of the plantar fascia connected between the toes and heel. This can result in either a heel spur or an inflammation of the plantar fascia, medically termed plantar fascitis. Because this condition is often correlated to a decrease in the arch of the foot, it is more prevalent after the age of six to eight years, when the arch is fully developed.
Causes
Some causes of heel spurs include abnormal or lopsided walking, which places excessive stress on the heel bone, ligaments and nerves Running, jogging or jumping, especially on hard surfaces. Poorly fitted or badly worn shoes, especially those lacking appropriate arch support, excess weight and obesity.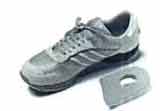 Symptoms
Although it may take years to become a problem, once it appears, it may cause considerable suffering. Because of proximity to the tendons, the spur is a source of continuous painful aching. The sensation has been described as "a toothache in the foot." When you place your weight on the heel, the pain can be sufficient to immobilize you.
Diagnosis
Your doctor will review your medical history and examine your foot. X-rays are used to identify the location and size of the heel spur.
Non Surgical Treatment
Heel spurs and plantar fascitis are usually controlled with conservative treatment. Early intervention includes stretching the calf muscles while avoiding re-injuring the plantar fascia. Decreasing or changing activities, losing excess weight, and improving the proper fitting of shoes are all important measures to decrease this common source of foot pain. Modification of footwear includes shoes with a raised heel and better arch support. Shoe orthotics recommended by a healthcare professional are often very helpful in conjunction with exercises to increase strength of the foot muscles and arch. The orthotic prevents excess pronation and lengthening of the plantar fascia and continued tearing of this structure. To aid in this reduction of inflammation, applying ice for 10-15 minutes after activities and use of anti-inflammatory medication can be helpful. Physical therapy can be beneficial with the use of heat modalities, such as ultrasound that creates a deep heat and reduces inflammation. If the pain caused by inflammation is constant, keeping the foot raised above the heart and/or compressed by wrapping with an ace
bandage
will help. Corticosteroid injections are also frequently used to reduce pain and inflammation. Taping can help speed the healing process by protecting the fascia from reinjury, especially during stretching and walking.
Surgical Treatment
Surgery, which is a more radical treatment, can be a permanent correction to remove the spur itself. If your doctor believes that surgery is indicated, he will recommend an operation - but only after establishing that less drastic methods of treatment are not successful.